12 Months of Personalized Romantic Gifts
Looking to do something extra romantic for your boyfriend or girlfriend, husband or wife? Why not surprise them with a heart-felt and thoughtful gift once a month? Giving gifts—even when it's not a birthday or anniversary—shows that you're always thinking of them. Choose a special date, maybe it's the day of the month when you first met or maybe it's the number of years you've been together! Or to completely surprise your sweetie, choose a different day each month.
While gifts bought from a big-box retailer may look nice, chances are they aren't very sentimental and they may be missing that extra touch of love. Look for gifts that are personalized. Gifts that feature your names require that extra bit of thought and care. And while styles and fashions change, personalized gifts are timeless!

Personalized Ceramic Heart Mug Set - JANUARY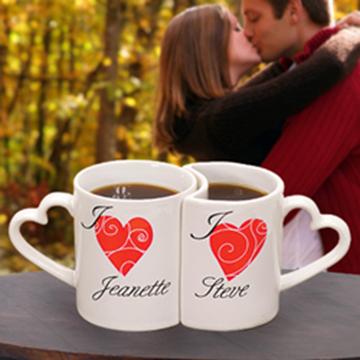 On chilly January nights you and your sweetheart will want to cuddle up on the couch, especially after a ski date! Grab a favorite movie, warm blanket, and a spot by the fire place for a cozy date. Don't forget the hot chocolate! Make a hot coco gift mug using this Personalized Ceramic Heart Mug Set. Add some hot coco powder, marshmallows and chocolate chips and finish off with cellophane wrap, a ribbon, and a heartfelt note for a fun gift idea. The heart shaped handle and the nesting design makes this mug too cute. And you'll love that these mugs display your love for your sweetie!
Personalized We first met here jigsaw puzzle – FEBRUARY
If the February weather has got you down, surprise your sweetheart with a unique activity that you can enjoy together. This We Met Here Personalized Jigsaw Puzzle turns the place you first met into a beautiful and fun jigsaw puzzle. Select the location of your first date and you'll receive a unique and personalized puzzle that's perfect for a relaxing date night in! If jigsaw puzzles aren't your thing, you can still celebrate the place where you first met with the Personalized Heart Map. Turn that magical place into a work of art you'll always cherish.
Personalized Heart Canvas – MARCH
Spring is right around the corner! Put away the winter décor and start getting your home ready for spring. Personalized wall canvases are a great way to decorate your home, while also showing your love. This Personalized Heart Canvas adds a sunny, rustic touch to any bedroom or living room. Imagine the look of surprise on your sweetheart's face when they see this beautiful artwork that features their name and yours!
Personalized Fake Newspaper – APRIL
When April fools day rolls around it's time for some practical jokes! You and your significant other will love tricking your friends with this Personalized Fake Newspaper. They'll think you guys are the hottest couple in Hollywood! Because the fake break up on facebook is so last year. Turn up your April fools trickery this year and have some fun as a couple! Hang up this funny decoration in your home and you'll laugh every time you look at it.
Personalized Love Pillow Case Set – MAY
Spruce up your bedroom for spring! May means it's time to take those heavy winter quilts off the bed and replace them with fresh sheets and a light duvet. Bright colors are perfect for giving your bed a spring-time makeover. Look for pillows that have a floral theme, while also reminding you and your sweetheart of your everlasting love. Surprise your sweetie with these Personalized Love Pillow Cases! With so many colors to choose from, they'll match any bedroom. Personalize these pillowcases with your names and leave a cute note on the bed for a spontaneous romantic gift!
Personalized Cassette Tape Door Mat – JUNE
June is the start of summer concert season! If you're planning on surprising your special cutie with tickets to their favorite concert, give them a music-themed gift in advance. It's a cute hint that they're about to go to their favorite festival. This Personalized Cassette Tape Door Mat makes a sweet, music-themed gift. Personalize this door mat with your names or add the name of your special song for a gift they'll cherish. Place it outside your door and watch the look of surprise on your loved ones face as they come in the door!
Personalized Starfish in Love Print – JULY
July means it's time to hit the beach for some summer fun with your special someone. If you're looking to bring the sun and surf to your home look for prints and wall decorations that scream summer. This Personalized Starfish in Love Print is perfect. Not only can you personalize this with your name and the name of your sweetheart, but we're sure you'll both love this adorable design!
Name a Star Box – AUGUST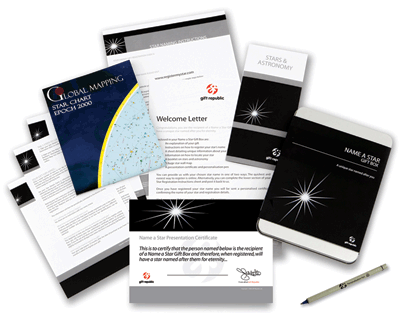 On hot summer nights, a great activity to do together is to star gaze! With a star map and a telescope (or even the naked eye) you can make a fun date night out of spotting constellations, planets, and stars. And to make the night even more romantic you can even select a star to name after your own shining star, with this Name a Star Box What better way to show your love then to give your loved one their very own star.
Personalized Love Pillow - SEPTEMBER
While September means summer is drawing to a close that doesn't mean your relationship has to cool off! Remind your special someone how much they're loved with a spontaneous romantic gesture! Look for small, yet personal gifts to show you're thinking of them, there's no need to spend a lot of money. Throw pillows make the perfect gift because you can display your love right on your couch! We love this Personalized Typeset Pillow. This pillow is unique, fun, and romantic. Toss it onto the couch to give your special someone a big surprise!
Personalized Couple Picture frame – OCTOBER
October marks the beginning of fall which means tons of fall themed date plans! Take your sweetheart apple or pumpkin picking and then bake some delicious pie with all your freshly picked goodies! How about a hay ride or a journey through a corn maze? With so many fun activities fall lets you and your honey be extra silly and sweet. Whatever you do, make sure to capture all the memories on camera. Choose your favorite print and put it in a frame for a beautiful memento. We love this Personalized Couple Picture Frame because the natural wood gives it the perfect autumn theme. Place a favorite fall photo of you and your sweetheart in this frame and place it on table or desk as a romantic surprise for your sweetie!
Personalized Heart Cake Dish - NOVEMBER
November means the start of the holiday season, and that means sharing yummy food with friends, family and loved ones. This month's romantic gift can be something simple, yet heartfelt, like a home baked dish. A special surprise dessert at the end of a long day at work is sure to cheer up your sweetheart. For a gift with extra love, bake a cake in this Personalized Heart Shaped Cake Dish. As you eat the cake, the touching message will be revealed! And you can use this baking dish for all of your holiday baking.
Personalized Christmas Stockings – DECEMBER
December means the holidays are here! We're sure you and your sweetheart have got some big Christmas day surprises planned for each other, whether that's the necklace she's had her eye on or the new laptop he's been talking about for months. But when it comes to showing your love sometimes it's the little things that can mean the most. No house would be holiday ready without stockings! These Personalized Christmas Stockings have a cozy, homemade look that will dazzle hanging by your fire. Fill them up with books, perfume, soap, and nail polish for her and leather goods, pocket knives, and golf equipment for him. Add a lovely note for a personal touch that shows your love and make this holiday season the best one yet!
Summary

Romantic Gifts of the Month are truly a great way to be creative with your relationship. Surprising your significant other every month adds fun and romance throughout the entire year and they'll look forward to a new surprise every month. You can always add your own personal touches to these gifts and find elements that are most meaningful to you. We hope you have found these romantic gift ideas helpful to adding some fun and spice. Please check out our complete line of Personalized Romantic Gifts and let us know which ones you've liked the best!